I have not heard from Amazon Kindle Tech, so I had to release both the digital and paperback versions of my new children's chapter book, The Magical, Mystical Golden Steed to capture the Labor Day Holiday benefits. Unfortunately, Hurricane Dorian got all eyes glued to the news and weather forecasts, and I lost alot of readers. I havn't had time to check reports but I don't think sales are moving on this book.
On a positive note: you still have time to win a chance to get a digital copy of three of my books: The Pickled Man and BluBerrie: The CandyStore. Don't miss it.
I'm Illustrating another BluBerrie Book
BluBerrie: The Gallery is off to the editors — hurray! Also, I started illustrating the book here is a sneak preview of the cover. Don't fail to follow me on Amazon.com.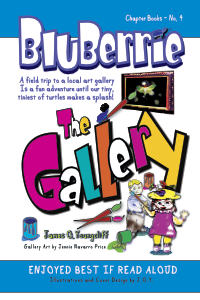 Anything Else?
Oh, yes, stay safe, I understand Dorian is still hitting the eastern coastline. Take care.
Please follow and like us: